Glera: grapes harvested from vineyards in the Valdobbiadene area; Chardonnay: grapes from suitable vineyards in the hills of Trentino.
Glera 75%, Chardonnay 25%.
Soft and separate pressing of the destemmed grapes, followed by alcoholic fermentation at a controlled temperature in stainless steel tanks and subsequent preparation of the Cuvée.
Sparkling process via Martinotti- Charmat method at a controlled temperature of 16-18 °C with subsequent ageing in an autoclave on the lees for a total of 5 months
It should be served in a large glass at a temperature of 6-7 °C. It is best to cool the bottle gradually, avoiding sudden changes in temperature but also prolonged storage in the fridge.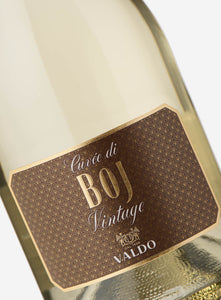 Tasting Notes
Color

Straw yellow with bright greenish reflections.

Bouquet

Rich hints of flowers, citrus and rennet apple.

Taste

Full, harmonious, tangy-savoury, with a long and persistent finish.
Re-visiting the past to reinvent the present. This vintage brut sparkling wine, produced in a limited edition of about 12,000 bottles and dedicated to bruno bolla, celebrates the 40th harvest of the founder of the atelier collection, recovering and reinterpreting the style and blend of the past: 75% glera and 25% chardonnay
FOOD PAIRINGS
Excellent as an aperitif, it also perfectly accompanies fish-based