Decanter WWA 2023 - Gold Medal -95 points
Close

Exposure: 200 - 250 metres above sea level with Southern / South-eastern exposure
100% certified Organic Glera
Classic white wine vinification with first fermentation at controlled temperature in stainless steel tanks and soft pressing of the first-pressingmust. Maturation of the base wine on the fine lees for several months.
Refermentation in autoclave using the Martinotti method, at least 4 months on the lees after the second fermentation.
Gradual cooling, without excessive temperature changes. To fully appreciate the product a wide glass is the most suitable, serve at 6-7 ° C.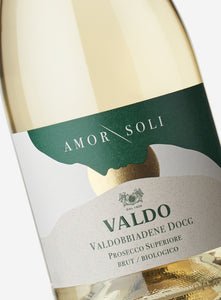 Tasting Notes
Color

Golden yellow with greenish reflections

Bouquet

Delicate hints of white-fleshed fruit and white flowers are accompanied by interesting mineral sensations.

Taste

Delicate, harmonious, elegant, with taste sensations reminiscent of flint and powder
Amor Soli (from the Latin "Love for the Territory") is an oenological project that was created by the Bolla family. With the 2020 vintage, the ideal conditions in the vineyard have been achieved to be able to produce the first Valdobbiadene DOCG Organic. Amor Soli for Valdo is a concept that goes beyond oenology and viticulture, it is the symbol of an irreversible path linked to sustainability, it is a feeling, it is love for Valdobbiadene and a territory that has given so much to Valdo since 1926.
FOOD PAIRINGS
This high-level aperitif goes perfectly with most of the fresh pasta dishes of the Italian cuisine, especially fish. Ideal accompaniment of positive feelings, of affection, friendship and love