70 metres above sea level
Maceration technique in red at a controlled temperature of +20° to +25°C for a period of 8-10 days. Ageing: maturation of the wine at a controlled temperature of 12-13°C in stainless steel tanks.
Avoid excessive temperature changes in the bottle. It is good practice not to leave the product in the refrigerator for a long time.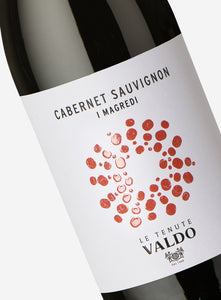 Tasting Notes
Color

Deep ruby red

Bouquet

Slightly herby aroma with hints of raspberry and cherry, spicy notes of pepper.

Taste

Dry, rich, extremely fine flavour on the palate, rounded off by a fruity aroma on the nose
The Cabernet Sauvignon Tenute Valdo is a vivacious red wine, whose purple tinges already reflecting all the freshness of a red wine fermented and aged in stainless steel, but which does not sacrifice a certain complexity. The bouquet starts with herbaceous hints typical of the grape variety and goes on to nuances of fruit such as raspberry and cherry, ending on the palate with spicy pepper aromas.

FOOD PAIRINGS
Goes beautifully with chickpea or legume soup, baked pasta and semi-aged cheeses.