250 metres above sea level
Brief maceration of the skins in a closed press, followed by soft pressing with extraction of the first cut of the drainings.
After the first fermentation, two months sur les fines at a controlled temperature of 10°C in steel. After the bottle fermentation 3 months in pressurised vat.
Gradual cooling in the refrigerator, without excessive temperature changes. To fully appreciate the product, a long-stemmed glass is the most suitable, serve at 6-7C°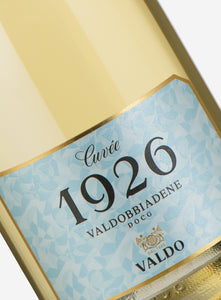 Tasting Notes
Color

Straw-coloured with golden tinges. Fine and delicate bubbles.

Bouquet

Characteristic aroma of ripe fruit, apple, pear and exotic fruits such as banana and pineapple.

Taste

Moderate softness and full-bodied with fresh flavour and persistent fruitiness.
The Cuvée 1926 Prosecco Valdobbiadene Superiore DOCG celebrates Valdo's history. It is an unusual blend of Glera and Chardonnay grapes that involves a brief maceration of the skins before fermentation, to give the sparkling wine an even more unique character. It was precisely in 1926 that the first bottle was opened in the Valdo winery, and this Prosecco Superiore aims to celebrate its history.
FOOD PAIRINGS
Excellent as an aperitif, great for any time of day with some snacks as an accompaniment.Also try it with first courses, especially risottos; moreover, it is an ideal end to your meal when paired with fruit such as peaches in Prosecco.