250 metres above sea level
Soft pressing and fermentation at a controlled temperature.
Chardonnay: aged in barrels followed by maturing in the bottle
Gradual cooling in the refrigerator, without excessive temperature changes. To fully appreciate the product, a long-stemmed glass is the most suitable, serve at 6-7C°.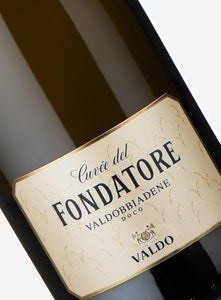 Tasting Notes
Color

Straw-coloured with golden tinges, rich and fine bubbles

Bouquet

Aromas of ripe fruit, banana, hazelnut, vanilla and a slight hint of honey.

Taste

Full-bodied, harmonious, velvety, with a pronounced personality. The fruity aromas blend with the spicy undertones of the barrique.
The Cuvée del Fondatore Valdobbiadene Prosecco Superiore DOCG Single vintage is produced with grapes from a single harvest. This is a quality blend achieved using a particular sparkling process that includes a partial perfecting in French oak barriques for the Chardonnay part that makes up the sparkling wine. The bottle fermentation in pressurised vat for at least 9 months provides an extremely fine, creamy perlage that goes surprisingly well with the sensations given from the barrique: innovation in tradition, the taste that pays homage to the winery's Founder, Sergio Bolla.
FOOD PAIRINGS
Special occasions and prestigious events are most suited to the importance of this product, which can be consumed both as an excellent aperitif and as an accompaniment to the entire meal. It enhances the flavour of fish and white meats, but can also be paired with all kinds of dishes, even daring combinations that are out of the ordinary.