Vinitaly 5 Star Wines 2021 - 90 Points
Close

Prosecco DOC area, I Magredi winery
100 metres above sea level
Soft pressing, using only the drainings and fermentation at 16C°.
3 months in a pressurised vat followed by maturing in the bottle.
Gradual cooling in the refrigerator, without excessive temperature changes. To fully appreciate the product, a long-stemmed glass is the most suitable, serve at 6-7C°.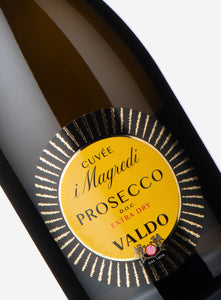 Tasting Notes
Color

Brilliant straw-coloured with greenish tinges.

Bouquet

Distinctive bouquet, typically fruity and floral, with hints of golden apples and white flowers.

Taste

Delicate, harmonious, pleasant flavour with elegant fruity notes and slightly savoury aftertaste.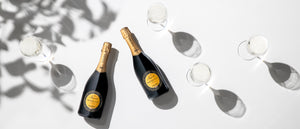 Prosecco DOC Cuvée i Magredi represents an important project from the Valdo Spumanti supply chain. Created to give a strong territorial imprint to sparkling wines, this Prosecco DOC is produced with grapes entirely harvested and vinified by the I Magredi Winery and subsequently sparkled in the Valdo cellars in Valdobbiadene. An encounter between a territory that is unique for its characteristics, that of Friuli Grave DOC where the Magredi winery is located, and Valdo's competence and sparkling wine tradition. Through this sparkling wine, with its strong personality, Valdo adds the exclusivity of its production chain to the historical attention to quality. The label clearly recalls the iconic circular vineyard found at the I Magredi Winery.
FOOD PAIRINGS
Ideal as an aperitif, it elegantly accompanies appetizers and delicate first courses, especially Mediterranean fish-based dishes.