80 metres above sea level
Soft pressing using only the drainings and fermentation at a temperature of 16C°.
Charmat for 3 months and followed by maturing in the bottle
Gradual cooling in the refrigerator, without excessive temperature changes. To fully appreciate the product, a long-stemmed glass is the most suitable, serve at 6-7C°.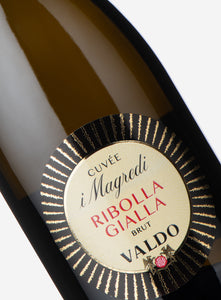 Tasting Notes
Color

Brilliant straw-coloured with greenish tinges.

Bouquet

A distinctive, delicate, and complex bouquet with subtle floral scents reminiscent of wisteria, lemon and iris.

Taste

Delicately full-bodied flavour, with elegant fruity and citrus sensations, long and harmonious finish.
The Cuvée i Maredi Ribolla Gialla sparkling wine originates from the exclusive supply chain project strongly desired by Valdo. It is produced following the strict vinification process guidelines at the I Magredi Winery, located within the Friuli Grave DOC appellation, from which the Ribolla Gialla grapes derive and which then undergo the sparkling process according to the Valdo tradition and style. Here too, the label clearly recalls the iconic circular vineyard found at I Magredi.
FOOD PAIRINGS
Excellent throughout the meal, it goes very well with risotto and fish-based pasta.