IWSC 2020 - Silver Medal, 91 Points
Close
The Wine Hunter Award 2020 - Gold
Close

Cartizze, hamlet of Valdobbiadene.
from 350 to 400 metres above sea level
Soft pressing after a light cryomaceration of the late grapes. Temperature-controlled fermentation with selected yeasts
Sparkling process via the Martinotti-Charmat method at a controlled temperature of 16-18 °C with subsequent ageing in an autoclave on the lees for a total of 4 months
Gradual cooling in the refrigerator, without excessive temperature changes. To fully appreciate the product, a long-stemmed glass is the most suitable, serve at 6-7C°.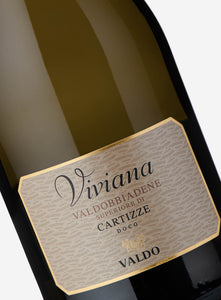 Tasting Notes
Color

Deep straw-coloured, very fine textured bubbles.

Bouquet

Intense aromas of ripe fruit, with a faint trace of wild apple and banana.

Taste

Pleasantly sweet and elegant, encased in a velvety bouquet with warm spicy and fruity sensations.
The Cuvée Viviana Valdobbiadene Superiore di Cartizze DOCG is the utmost expression of Valdobbiadene quality. Dedicated to the Wife of the Founder of Valdo, Viviana Bernardi, this sparkling wine will surprise you thanks to its exceptional though delicate complexity of aromas, deriving from a perfect balance of grape ripening.These are entirely hand picked from the steep slopes in Cartizze, Valdobbiadene. The sparkling process, following the Charmat Lungo method, that is, at least 5 months that gives the Cuvée Viviana its unique personality with unmistakeable tinges of its strong, decisive nature while maintaining its sweetness of Viviana.
FOOD PAIRINGS
To end meals with a touch of class, serve it either on its own or paired with fruit and delicate desserts. Also ideal for important and special occasions. The level of sweetness is particularly appreciated by female consumers.