Falstaff Sparkling Trophy 2020 - 91 Points
Close
Falstaff Prosecco Trophy 2019 - 92 Points, Best Prosecco DOC 2019
Close

80 metres above sea level
Soft crushing, fermentation with selected yeasts at a controlled temperature.
3 months in a pressurised vat
Gradual cooling in the refrigerator, without excessive temperature changes. To fully appreciate the product, a long-stemmed glass is the most suitable, serve at 6-7C°.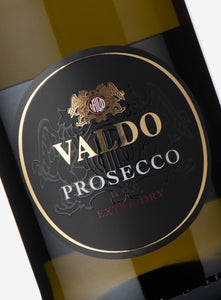 Tasting Notes
Color

Brilliant straw-coloured with greenish tinges.

Bouquet

Delicately fruity and floral.

Taste

Harmonious, dry, savoury with a slightly mineral aftertaste.
The Prosecco DOC Etichetta Nera represents the typicality of a Prosecco DOC. A lively, light and pleasant sparkling wine, suitable to be consumed particularly as an aperitif, both on its own and as an ingredient for a Prosecco-based cocktail.
FOOD PAIRINGS
A sparkling wine whose sweetness makes it perfect for all kinds of occasions: from a classic aperitif to a "glass" with friends. It goes well with appetizers and first courses.