80 metres above sea level
Cuvée of selected white grapes
White vinification by soft pressing of grapes and fermentation at a controlled temperature
Charmat method for 3 months followed by maturing in the bottle for at least 2 months
Gradual cooling in the refrigerator, without excessive temperature changes. To fully appreciate the product, a long-stemmed glass is the most suitable, serve at 6-7C°.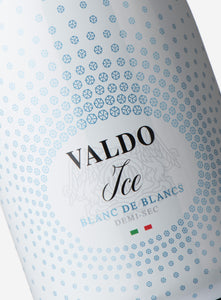 Tasting Notes
Color

Straw-coloured with greenish tinges.

Bouquet

Intense, fruity, and slightly aromatic bouquet with hints ranging from apple to apricot and fruit salad.

Taste

Persistent, well-rounded taste, delicately exuberant with a pleasantly sweet finish.
Ice Blanc de Blancs sparkling wine is the result of Valdo's continuous quest to satisfy the market's desire for novelty and taste. It represents a new way of drinking sparkling wine, particularly appreciated by a female audience and particularly suitable for warm seasons, with ice and fresh fruit. It is a demi-sec sparkling wine highly suitable for aperitifs, convivial moments in the open air such as gatherings with friends or cocktails during sunset by the sea.
FOOD PAIRINGS
A sparkling wine that, when enjoyed as an aperitif, finds its ideal match when served in a large long-stemmed glass with ice cubes and garnished with pieces of fruit such as strawberry or blueberry.