Carefully selected grapes from the most prestigious wine making areas in the Veneto region.
White grapes, highly suitable for making sparkling wine
Soft and separate pressing of the destemmed grapes, followed by alcoholic fermentation at a controlled temperature in stainless steel tanks and subsequent preparation of the Cuvée.
The Charmat method for 3 months followed by maturation in the bottle.
It should be served in a large glass at a temperature of 6-7 °C. It is best to cool the bottle gradually, avoiding sudden changes in temperature but also prolonged storage in the fridge.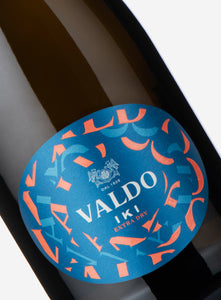 Tasting Notes
Color

Straw yellow with greenish reflections.

Bouquet

Highly refined and fruity, ranging between floral and green apple.

Taste

Persistent, lively and harmonious with a pleasant residual sweetness
'IKI' is a japanese word that embodies a distinctive aesthetic ideal: elegance and refinement are expressed . A vibrant, alluring wine with a powerful character that represents the essence of a unique terroir, and gives rise to high quality grapes.
FOOD PAIRINGS
This sparkling wine can be drunk throughout a meal, and pairs excellently also with the most sophisticated dishes.