Decanter WWA 2021 - Silver Medal - 90 points
Close
Global Sparkling Masters 2020 - Silver Medal
Close
Sakura Awards 2019 - Gold Medal
Close

from 100 to 300 metres above sea level
Cuvée of selected white grapes, Nerello Mascalese
Rosé. Soft-pressing of red grapes without maceration on the skins
Bottle fermentation in a pressurised vat for 4 months, Charmat method
Gradual cooling in the refrigerator, without excessive temperature changes. To fully appreciate the product, a long-stemmed glass is the most suitable, serve at 6-7C°.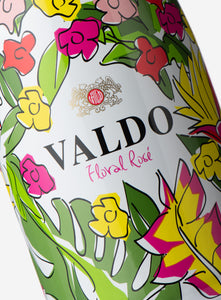 Tasting Notes
Color

Strokes of vermilion on rose petals.

Bouquet

Intensely fruity and pleasantly flowery, unique notes of undergrowth fruit.

Taste

Warm, exuberant and pleasantly soft flavour.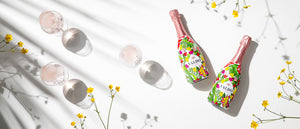 Rosé Brut Jungle Special Edition reflects a new philosophy that stems from the need to reconnect with a natural, uncontaminated, wild world, full of plants, in order to rediscover a new psychophysical well-being. The artwork strongly depicts these values, and it is the fourth special edition devoted to the world of flowers and nature by Valdo. It is a sparkling wine that, as well as being appealing has a strong taste personality, created from the blending of the Glera grape, the queen of Prosecco, with the Sicilian Nerello Mascalese, which gives character and depth of aroma to the product. The sparkling process which lasts at least 4 months adds complexity, but at the same time preserves the fruitiness that strongly characterises this innovative sparkling wine.
FOOD PAIRINGS
Ideal as an aperitif, excellent with fish, shellfish or delicate meat dishes. Originally paired with pizza.