Mundus Vini 2020 Prosecco Show - Best of Show
Close
CWSA best value 2020 - Gold Medal
Close
Berliner Wein Trophy 2020 - Gold Medal
Close
Champagne & Sparkling Wines World Championships 2020 - Silver Medal
Close
Falstaff Sparkling Trophy 2020 - 91 Points
Close

from 200 to 400 metres above sea level
Soft crushing, fermentation with selected yeasts at a controlled temperature.
3 months in a pressurised vat and 2 in a bottle.
Gradual cooling in the refrigerator, without excessive temperature changes. To fully appreciate the product, a long-stemmed glass is the most suitable, serve at 6-7C°.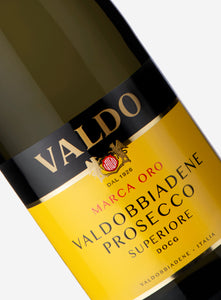 Tasting Notes
Color

Light straw-coloured yellow with golden tinges. Very fine textured and lingering bubbles.

Bouquet

Unmistakable fruity aroma with hints of wild apple, golden apple, acacia flowers and honey.

Taste

Easy-drinking and gentle, slim-bodied, with slight residual sweetness.
Iconic sparkling wine from Valdo, represents its history and is a product recognised and loved the world over thanks to its characteristics. It was created on the magnificent hillside of Valdobbiadene.
FOOD PAIRINGS
Excellent as an aperitif, it is perfect for any special occasion. It can be enjoyed throughout the meal and pairs well with delicate, especially fish-based foods.