70 metres above sea level
Maceration technique in red at a controlled temperature of +20° to +25°C for a period of 8-10 days. Ageing: maturation of the wine at a controlled temperature of 12-13°C in stainless steel tanks.
Avoid excessive temperature changes in the bottle. It is good practice not to leave the product in the refrigerator for a long time.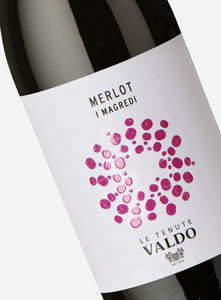 Tasting Notes
Color

Deep ruby red

Bouquet

The bouquet reveals aromas of forest fruits (when young, it has herbaceous notes).

Taste

Rich, harmonious flavour on the palate
Merlot is a red wine destined to grace the table on a daily basis. Its immeasurable ruby red hues reveal a nose of the forest floor, morello cherries and cherries in alcohol with a herbal finish of fresh bay leaves. A young, fresh, traditional but surprisingly modern red wine thanks to the combination of terrain and steel vinification.
FOOD PAIRINGS
Goes well with cured meats, spaghetti carbonara, duck breast in sauce, polenta and venison.