from 200 to 300 metres above sea level
White wine method with soft pressing
In pressurised vat for 3 months, then at least 2 months in the bottle.
Gradual cooling in the refrigerator, without excessive temperature changes. To fully appreciate the product, a long-stemmed glass is the most suitable, serve at 6-7C°.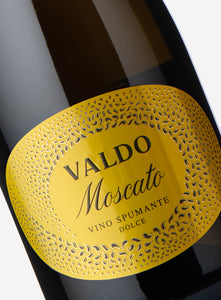 Tasting Notes
Color

Pale straw-coloured with greenish tinges.

Bouquet

Characteristic floral aroma of broom and acacia with balsamic and citrus fragrances.

Taste

Fresh, well-structured, excellent mineral taste and good consistency.
Spumante Moscato is the result of Valdo's experience and tradition in celebrating an important Italian regional grape variety. Moscato is an ancient grape variety, grown on both the Greek and Italian peninsulas. The name comes from the word 'muscum' (moss), whose characteristic aroma can be found in grapes. Today, it is grown in several Italian regions where it is particularly popular. These grapes, with their compact, medium-sized bunches, lend themselves very well to both drying and sparkling, and Valdo wanted to make a product with a contemporary and elegant taste, particularly suitable for serving with dessert.
FOOD PAIRINGS
Excellent at the end of a meal with pastries, ice cream and fruit desserts.