Vinitaly 5 Star Wines 2020 - 90 Points
Close
Champagne & Sparkling Wines World Championships 2020 - Silver Medal
Close
Touring Club - Vini Buoni d'Italia 2020, Corona
Close
Falstaff Sparkling Trophy 2020 - 91 Points
Close
Falstaff Prosecco Trophy 2019 - 92 Points
Close
250 metres above sea level
Soft pressing and first fermentation at a controlled temperature of 15°C
Drafted with selected yeasts in the spring following the harvest. Matured in the bottle sur lees for 10 months, then disgorged and stored in the cellar for a further 6 months.
Gradual cooling in the refrigerator, without excessive temperature changes. To fully appreciate the product, a long-stemmed glass is the most suitable, serve at 6-7C°.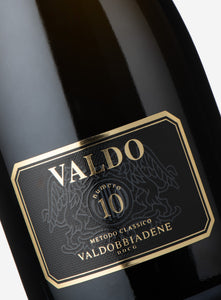 Tasting Notes
Color

Deep straw-coloured, intense, persistent and fine bubbles, creamy foam

Bouquet

Intensely fruity and mature

Taste

Highly structured, lively and persistent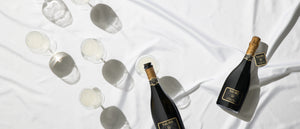 Valdo Numero 10 Valdobbiadene Prosecco Superiore DOCG Metodo Classico Single-vintage is a completely unique product. Created from an intuition by the Bolla family, it is a 100% Glera Metodo Classico that involves at least 10 months of re-fermentation and perfecting in bottles (Metodo Classico).This is a sparkling wine capable of combining the typically fruity, delicate characteristics of the Glera grape, with the body and personality achieved with re-fermentation in bottles. Mature fruity hints blend together with complex, honey hints, for a unique, surprising experience in the glass.
FOOD PAIRINGS
Excellent as an aperitif and as a "companion" for the entire meal. It fully expresses its personality with fish and white meat dishes.