from 100 to 300 metres above sea level
Cuvée of selected white grapes, Nerello Mascalese
Rosé. Soft-pressing of red grapes without maceration on the skins
Bottle fermentation in a pressurised vat for 3 months, Charmat method
Gradual cooling in the refrigerator, without excessive temperature changes. To fully appreciate the product, a long-stemmed glass is the most suitable, serve at 6-7C°.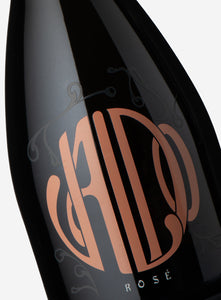 Tasting Notes
Color

Brushstrokes of crimson on rose petals.

Bouquet

Fine and elegantly floral, with a lingering element of raspberry.

Taste

Soft and warm flavour, intense charm and persistent finish.
Spumante Origine Rosé Brut is a young and innovative product, that at the same time is a nod to Valdo's strong sparkling wine tradition. This is strongly linked to the local area, but without neglecting the excellence of the wines found throughout Italy. This philosophy has led to the creation of this Rosè, a blend of Glera grapes from our local area and Sicilian Nerello Mascalese, in a visionary blend of perfectly balanced and pleasantly structured aromas.
FOOD PAIRINGS
Originally as an aperitif, excellent with fish, shellfish or delicate meat dishes.