70 metres above sea level
The grapes are de-stemmed and pressed. The juice is left to rest in a cold atmosphere before fermentation. Matured in steel containers.
Avoid excessive temperature changes in the bottle. It is good practice not to leave the product in the refrigerator for a long time.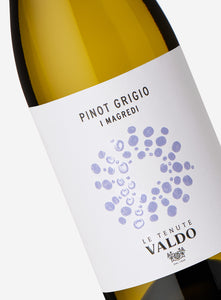 Tasting Notes
Color

Straw-coloured yellow, brilliant

Bouquet

On the nose, it offers aromas of white blossom, pear, citrus fruits and tropical fruits.

Taste

Hints of pear, citrus and tropical fruits
When we think of Pinot Grigio from Friuli, we are immediately reminded of the scents of fresh flowers, pear and citrus fruits that we find when tasting Pinot Grigio Tenute Valdo. Fermented in white, it expresses itself in a brilliant straw-coloured yellow. The dense, full-bodied taste has hints of the freshness typical of white wines from this lean, stony terrain.




FOOD PAIRINGS
The highlight on the table with dishes such as molluscs au gratin and fish soups.