80 metres above sea level
Soft pressing, fermentation with selected yeasts at a controlled temperature of 18C°.
3 months in a pressurised vat
Gradual cooling in the refrigerator, without excessive temperature changes. To fully appreciate the product, a long-stemmed glass is the most suitable, serve at 6-7C°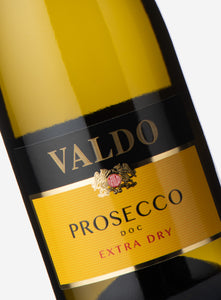 Tasting Notes
Color

Brilliant straw-coloured with greenish tinges.

Bouquet

A typical, delicately fruity bouquet, reminiscent of ripe wild apples and the scent of acacia flowers.

Taste

Clear hints of fruit and a cheerful and lively taste.
Valdo's Prosecco DOC represent a practical solution to comfortably taste this pleasant sparkling wine. With its "unscrew-and-screw" package you can enjoy this Prosecco DOC practically anywhere, both at home and, at the right temperature, outside your home. A 'quintino' bottle contains 0.2cl of Prosecco DOC, ideal to accompany a meal or an aperitif without having to open an entire bottle. Its fruity and floral aromas, typical of the grape variety, make this sparkling wine not only practical but also particularly pleasant.
.
FOOD PAIRINGS
Sparkling wine particularly suitable as an aperitif, but it also goes well with light, fish- or white meat-based dishes.