70 metres above sea level
Fermentation takes place in steel vats at a controlled temperature of 18°C. Once the fermentation is over, the maturing in steel tanks takes place.
Avoid excessive temperature changes in the bottle. It is good practice not to leave the product in the refrigerator for a long time.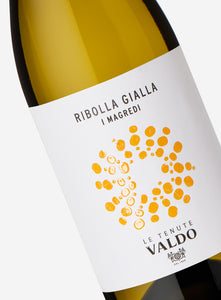 Tasting Notes
Color

Straw-yellow

Bouquet

It has a delicate, floral bouquet with hints of saffron and green apple.

Taste

Elegant, well-balanced, fresh wine that is very easy-drinking
Ribolla Gialla is an indigenous grape variety of the Friuli Venezia Giulia region, with a thousand variations in the area according to specific trends and traditions.
The Tenute Valdo version, reflects the winery's vision of producing zesty, fresh white wines.
The bouquet is floral, delicate, with notes of saffron that make the wine elegant even on the palate.


FOOD PAIRINGS
Enjoy as an aperitif, goes well with delicate appetizers, soups and steamed fish.