IWSC 2020 - Silver Medal, 90 Points
Close
The Wine Hunter Award 2020 - Red
Close
San Pietro di Barbozza, hamlet of Valdobbiadene
from 350 to 400 metres above sea level
Soft pressing and fermentation at a controlled temperature.
Charmat method of at least 6 months followed by maturing in the bottle.
Gradual cooling in the refrigerator, without excessive temperature changes. To fully appreciate the product, a long-stemmed glass is the most suitable, serve at 6-7C°.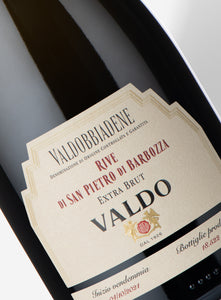 Tasting Notes
Color

Brilliant straw-coloured yellow, with greenish tinges. Fine bubbles.

Bouquet

Bouquet with rich hints of flowers and slightly citrussy.

Taste

Decidedly dry and austere taste, typically savoury. Mineral aftertaste and long finish to ensure persistence.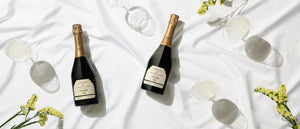 From the Rive di San Pietro di Barbozza, this sparkling wine offers the finest quality of the Valdobbiadene Prosecco Superiore DOCG, grown on the most arduous hillsides, where the grapevine is often the oldest. The term Rive identifies with a steep terrain, particularly precipitous, where the cultivation of grapevines is particularly difficult. This vintage, Extra Brut sparkling wine is produced in a limited edition of just 17,852 bottles.
FOOD PAIRINGS
Ideal pairings are delicate appetizers (raw fish), but it is especially good served throughout the meal. It can best express its dry taste and flavour, as supported by its excellent structure, with fatty fish-based dishes.