Decanter WWA 2021 - Bronze Medal - 89 points
Close
Berliner Wein Trophy 2020 - Gold Medal
Close
CWSA best value 2020 - Double Gold Medal
Close
AWC Vienna International Wine Challenge 2020 - Silver Medal
Close
Falstaff Sparkling Trophy 2020 - 92 Points
Close

Prosecco DOC, tenuta la Maredana
100 metres above sea level
Soft pressing and temperature-controlled fermentation at 18°C
4 months in a pressurised vat and followed by maturing in the bottle
Gradual cooling in the refrigerator, without excessive temperature changes. To fully appreciate the product, a long-stemmed glass is the most suitable, serve at 6-7C°.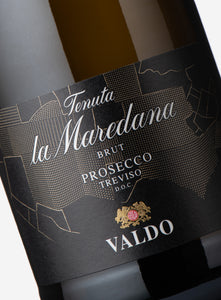 Tasting Notes
Color

Brilliant straw-coloured with greenish tinges.

Bouquet

Delicately fruity and floral.

Taste

Very harmonious, reminiscent of crabapple. Balanced, with a persistent finish.
Prosecco DOC Tenuta La Maredana is an additional product within the supply chain development projects created by Valdo Spumanti. From the best vineyards of the Tenuta "La Maredana" , in the splendid setting of the province of Treviso, comes this fine Prosecco DOC made from 90% Glera grapes and 10% Pinot Nero grapes. Thanks to a special microclimate, enhanced by the proximity of the Livenza River, and a lower yield per hectare of Pinot Noir than that specified in the production regulations, Prosecco DOC Tenuta La Maredana has a rich variety of fruity and floral aromas on both the nose and palate, thanks also to a sparkling period of at least 90 days. This sparkling wine conveys a strong bond with the area of origin of the grapes and, through Valdo's expertise and sparkling wine culture, it guarantees a unique and high-quality taste experience. The design of the label is a strong reference to the Tenuta La Maredana, creating an even more intense link with the land.
FOOD PAIRINGS
Sparkling wine that goes both particularly well with delicate dishes and can serve as an excellent companion for an alternative aperitif.